1 Unze 1993 China Munich-Panda Polierte Platte Proof PP
Description
China 1 Unze 1993
Grade: Polierte Platte Proof PP
Sonderedition Silberpanda zur Münzmesse 1993 in München.

1 oz Feinsilber

sehr geringe Auflage von nur 2500 Stück.
Die Münze ist original verschweißt und befindet sich in der originalen, hölzernen Lackschatulle mit Originalzertifikat.



As the costs for the shipment to abroad depend very strongly from the weight of the mail, the general indication of costs for shipping refers ONLY to one or a little group of coins WITHOUT heavy boxes an so on. If there are higher weights for boxes, KMS and so on, of course the costs for shipment are higher and have to be calculated individually.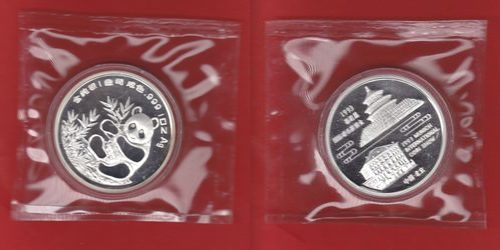 Shipping fees
up to

50,00 EUR

50,00 EUR

to

100,00 EUR

100,00 EUR

to

300,00 EUR

over

300,00 EUR

Germany

5,00 EUR

5,00 EUR

5,00 EUR

Free shipping
European Union, other countries

5,00 EUR

6,00 EUR

8,00 EUR

10,00 EUR

World, other countries

5,00 EUR

6,00 EUR

8,00 EUR

10,00 EUR